Chip Sludge Removal Machine
FOODIE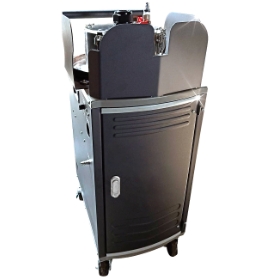 FOODIE Unit (Chip Sludge Sump Cleaner Machine)
Chip sludge removal machine is often named as a sump cleaner that has fast chips vacuuming, filtration, removing residuals with powerful capacity, etc feature.
Filtering more than a magnetic separator, non-magnetic chips, swarf, and grinding sludge will be filtered as well
Working in both water-soluble cutting oil and neat cutting oils to do filtrations
Turning manual cleaning time from 60 minutes to 5
Cleaning several coolant tanks in a factory with only one unit required
What is the advantage of a chip sludge removal machine?
When you use a chip sludge removal machine no downtime for your processing machine.
Zero consumables
Filtered release return happens with suction at the same time.
The chip removal machine adopts air-driven, no electrical plug is required that is lightweight, portable and mobile.
Vertically fast filter with self-dehydration of up to 90% efficiency
The chip/sludge removal machine adopts an air gun embedded, switch-type sheet metal cover which minimizes user maintenance reduces cost.
Optional filter mesh
100% visible filtration process with a transparent filter lid
| Model | Foodie Chip Sludge Removal Machine |
| --- | --- |
| Machine Size(L*W*H) | 420*600*900mm |
| Filter Capacity | 10.5L |
| Net Weight | 56kg |
| Max. Pump Capacity | 90 - 180 Lit. /Minute (47.49 Gallon per min) by water |
| Air Pressure | 0.5 Bar - 8.3 Bar (7.25 Psi - 120 Psi) |
| Filter | 380 ㎛ / 190 ㎛ / 830 ㎛ |
| Filter Material | 304 Stainless Steel |


How many procedures are required to clean a coolant tank by hand?
Step 2

Pipeline Disassembly

Step 3

Pulling Out the Coolant Tank

Step 4

Removing All Fluids

Step 5

Removing All Residuals By Hands

Step 6

Replacing the Coolant Tank

Step 7

Pipeline Re-installation

Step 8

Coolant Replacement

Step 9

Concentration Adjustment
In order to remove all the chips or sludge (iron, aluminum, copper, steel, grinding...etc) that are yielded after the CNC lathe, milling, or grinding processing, the labor and time consuming for cleaning are tremendous. Meanwhile, the sump cleaner machine Foodie will be able to help you achieve saved work just as in the following pictures and video performance.
CNC equipment often results in fluid deterioration and pump blockage due to swarf and metal debris thus chip sludge removal machines clean and filter.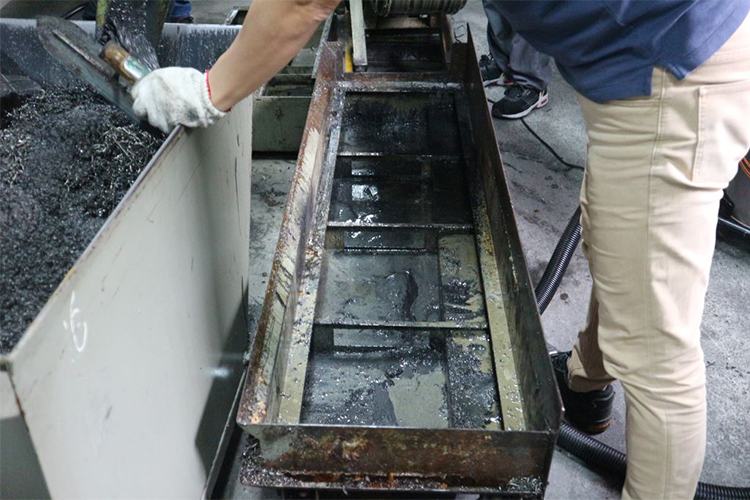 What is the advantage of a chip sludge removal machine?
When you use a chip sludge removal machine no downtime for your processing machine.
Zero consumables
Filtered release return happens with suction at the same time.
The chip removal machine adopts air-driven, no electrical plug is required that is lightweight, portable and mobile.
Vertically fast filter with self-dehydration of up to 90% efficiency
The chip/sludge removal machine adopts an air gun embedded, switch-type sheet metal cover which minimizes user maintenance reduces cost.
Optional filter mesh
100% visible filtration process with a transparent filter lid